Cases 17 - 24 out of 51 in this section
|< First
<< Previous
Next Page >>
Last >|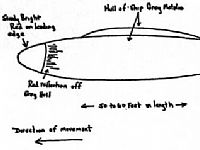 Coyne Helicopter Incident
October, 18, 1973 - Mansfield, Ohio, United States
The Coyne case (or "Army helicopter incident") stands out as, perhaps the most credible (in the "high strangeness" category) of the 1973 wave. An Army Reserve helicopter crew of four men encountered a gray, metallic-looking, cigar-shaped object, with unusual lights and maneuvers, as they were airborne between Columbus and Cleveland, Ohio. View full report
Source: Jennie Zeidman, CUFOS ID: 104
Case Type: MajorCase Features: Pilot/Aircrew, Military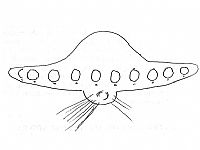 Large disc with light beam follows car near Nowra, Australia
January, 1973 - Nowra, Australia
Elizabeth C was driving along the South Coast of NSW with four other people, when the group encountered a UFO which began to travel alongside the car. The object was large, disc-shaped, and there appeared to be a distinct 'searchlight' beam effect that rotated around its bottom. At least one of the witnesses was certain that figures could be seen in the windows of the object. After following the car for 24 km, the object seemed to suddenly relocate and headed out to sea. View full report
Source: Bill Chalker, (1996) ID: 625
Case Type: StandardCase Features: Humanoid/Occupant, Military, Portholes/Windows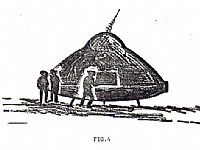 The Isla De Lobos Case in Uruguay
October, 28, 1972 - Isla de Lobos, Uruguay
This is a single witness sighting, and yet it has become the best case coming from Uruguay due to the in-depth investigation done by the members of C.I.O.V.I. research group. The witness, Corporal Juan Fuentes saw a landed craft with three occupants at close range for time of about one minute. He attempted to shoot at the occupants but was stopped from doing so. The occupants entered the craft, and the craft rose up and flew away at high speed. View full report
Source: Dr. Willy Smith (UNICAT Project)/ C.I.O.V.I. ID: 887
Case Type: StandardCase Features: Humanoid/Occupant, Landing, Military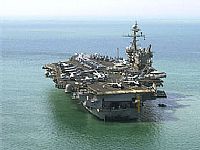 US aircraft carrier 'stopped' by large, glowing UFO; electromagnetic effects
1971 - Caribbean / Bermuda Triangle,
From the witness: "We heard someone yelling 'There is something hovering over the ship!'... As we looked up, we saw a large, glowing sphere.... It made no sound that I could hear. The light coming from it wasn't too bright, about half of what the sun would be. It sort of pulsated a little and was yellow to orange... Virtually all electronic components stopped functioning during the 20 minutes or so that [the UFO] hovered over the ship. " View full report
Source: Jim Kopf (credit: Rense.com) ID: 1075
Case Type: RawReport Features: E-M Effects, Silent, Military, Group Sighting, Water-Related
Military sighting of ball of opaque light started out small, grew to 5 times moon size
1970 - Ft. Gordon, Georgia, United States
Our company had fallen out for morning formation. we were waiting for the 1st seargent to join us when someone in our ranks started saying "what is that?" What I saw was an object that first appeared to be a full moon only larger by half than I had ever seen it. As I continued watching it, it steadily grew in size untill it was at least 5 times larger than I have ever seen the moon be. View full report
Source: UFO Evidence ID: 74
Case Type: RawReport Features: Military
Chilean Navy ship encounters large UFO; tracked on radar
October, 24, 1969 - Chile
The incident involved a Chilean Naval destroyer and was witnessed by crew members and the commander of the vessel. Up to six UFOs, including one large object, were observed. The objects were verified on radar and observed visually. As the main object moved over the ship, the vessel's power went out." View full report
Source: Bill Chalker ID: 1016
Case Type: StandardCase Features: Military, Water-Related, Radar, Multiple UFOs, Humming, E-M Effects, Body Lights, Group Sighting
Navy ship HMAS Hobart hit during Vietnam UFO encounter?
June, 15, 1968 - DMZ, Viet Nam
On Friday, 15 June 1968, Allied forward spotters along the eastern part of the Demilitarised Zone, a 9.6km wide strip separating North and South Vietnam, reported seeing about 30 strange slow-moving 'lights' in the night sky. View full report
Source: AUFORN Special Report, Issue 34, April 2003 ID: 60
Case Type: StandardCase Features: Military, Physical Trace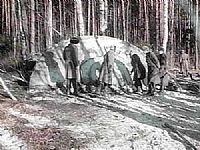 Russia UFO crash and recovery, 1968
March, 1968 - Berezovsky , Russian Federation
The details of a Russian UFO crash on or about 1969 are sketchy and somewhat suspect. This case comes from the so-called "Secret KGB Files," which were reportedly smuggled out of the former Soviet Union. Reportedly, $10,000 was paid for the information. The details of these secret files were first offered to the general public on 9-13-98 as part of a TNT special titled "The Secret UFO Files of the KGB." The show featured extraordinary film and still photographs of the UFO recovery, and also a portion of autopsy film on part of an alien body. View full report
Source: UFOCasebook.com (editor, B. J. Booth) ID: 1138
Case Type: StandardCase Features: Military, Crash/Retrieval, Alien Photograph, Photo, Humanoid/Occupant
Cases 17 - 24 out of 51 in this section
|< First
<< Previous
Next Page >>
Last >|
Cases per page:
8
16
24