Night Siege: The Hudson Valley UFO Sightings
J. Allen Hynek, Philip J. Imbrogno, Bob Pratt,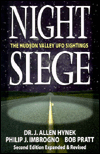 The late Dr. Hynek was a famous astrologer who was a consultant to the Air Force's "Project Blue Book" UFO investigation and later had a cameo in the movie "Close Encounters of the Third Kind." He began the research that was continued by science educator Imbrogno and journalist Pratt. What they uncovered was that thousands of people have been seeing strange objects in the sky-and sometimes even contacting strange beings-in the Hudson Valley just north of New York City. The first edition of Night Siege is widely known as a classic in the UFO field for its in-depth reporting.

choose one of the following:
Further information, reviews, & details
---
From the Publisher

There is no way you can determine if the "truth is out there" unless someone reveals it. Now you can discover the truth that will rip open the entire UFO phenomenon, when you read Night Siege by Dr. J. Allen Hynek, Philip J. Imbrogno, and Bob Pratt.

The late Dr. Hynek was a famous astrologer who was a consultant to the Air Force's "Project Blue Book" UFO investigation and later had a cameo in the movie "Close Encounters of the Third Kind." He began the research that was continued by science educator Imbrogno and journalist Pratt. What they uncovered was that thousands of people have been seeing strange objects in the sky-and sometimes even contacting strange beings-in the Hudson Valley just north of New York City.

Seven thousand reported sightings
Witnesses from all walks of life
Reports from strangers corroborate what others sawA huge object that hovers and floats through the sky almost silently
Encounters with entities who looked like they had gray skin . . . or were reptilian
Physical evidence that something strange took place
The first edition of Night Siege is widely known as a classic in the UFO field for its in-depth reporting. It has now been updated to cover the latest sightings and close encounters. The book features sixteen photos, including one of a UFO taken by a law enforcement official.

To this day, the military, the media, and scientists have remained silent about the Hudson Valley phenomenon. If you want to find out the amazing secrets of UFOs just minutes from New York City, you must get Night Siege.


From The Critics
Publisher's Weekly

The ``Westchester Boomerang'' was a UFO reported by hundreds of people in New York State and Connecticut between 1983 and 1986 and described by most witnesses as a hovering, immense V-shaped series of flashing lights connected by a dark structure. UFO investigators Imbrogno (Crosswalks Across the Universe) and Pratt write in detail about the ``close encounters'' of some 900 people who filled out ``witness forms.'' (Famed UFO author Hynek died in 1986, ``as the book was being written,'' but the authors maintain that he participated in the investigation and include the transcript of a Hynek interview with a witness.) They note a ``feeling'' common to the witnesses: ``They felt as if the object or whatever intelligence that was behind it was trying to communicate with them in some way.'' After a two-year analysis, the authors conclude that there is ``no conventional explanation for the Hudson Valley UFO.'' The illustrations (not seen by PW) include photos, drawings and sequential frames from a videotape of the lights. (October)