UFO Sighting Reports > Full Text View (multiple)
Date:
March 16, 2004
Location:
Dodge City, Kansas, USA
Summary:
Discovered when printing photographs
Date Reported:
3/20/2004 1:25:33 PM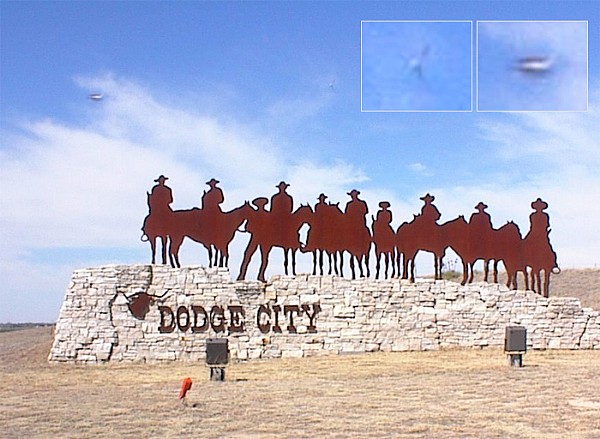 Day/Night:
Daytime
No. of Witnesses:
2
Duration:
Unknown
No. of Object(s):
Single
Full Description & Details
I thought I had accidently put something into my photograph using my photograph editing clone tool. When I looked at the photo still on my digital camera the object was really there. At first I thought I had simply captured an aircraft. But when I zoomed in I could see that part of the object was hidden among the whispy cloud cover. This meant that the object was too high in altitude to have appeared as big as it did. There appears to be a sphere in the photograph also but it is so small it could easily be dismissed as an anomily in the photograph.

The photograph was taken approximately 12:30-12:35 Tuesday March 16th, 2004. I believe the general direction of the object is West, but I'm not a resident of the area. I'm sure anyone acquainted with the area could tell positivily from the welcoming sign exactly which direction I was looking in order to take the picture.
Witness Background
I am a school teacher from Claremore, Oklahoma. I have a bachlor's degree plus some additional hours. I have never done illegal drugs, or alcohol. I don't take any prescription drugs. I have been married for 25 years and have lived in the same house for 20 years. I'm trying to establish a basis for a fairly normal and stable citizen.
Other Comments
I have been interested in UFO's like most Americans. Like most people I try to keep an open mind on the subject. My sighting may be easily dismissed but I believe that I have captured a real UFO sighting.
Reported Sighting?
No
Name:
Robert Rice
Your Location:
Claremore, Oklahoma; USA
Age:
49
login
D F
Date:
2001
Location:
Ray, Ohio, United States
Summary:
A large triangle shape craft with 3 alternating birght lights
Date Reported:
3/19/2004 4:23:50 PM
Day/Night:
Nighttime
No. of Witnesses:
1
Duration:
3 minutes
No. of Object(s):
Single
Other Comments
I am a believer in ufo's. I think that there has been many cover-ups by our goverment and others. But I am hopful that in the near future the truth will finally be told!
Reported Sighting?
Yes
Reported To:
Family
Your Location:
Wellston, Ohio, United States
Age:
19
login
Date:
febrero 1990
Location:
QUILLÓN, OCTAVA REGIÓN cHILE
Summary:
Date Reported:
3/19/2004 11:40:58 AM
Day/Night:
Nighttime
No. of Witnesses:
6
Duration:
20 min
No. of Object(s):
Single
Full Description & Details
el objeto volador que vimos era en forma cilindrico ( como un cigarro) de color verde fosforecente a una altura de 100 metros apróx. eran pasado de las 12:00 de la noche en un campo donde aún en esa epoca no llegaba electricidad para el camino de ripio del lugar eramos 6 personas y todos quedamos mudo por uns 5 minutos y luego lo empezamos a mirar con detencion para ver las caracteristicas de este objeto volador.
login
Date:
1965
Location:
Dresden, Ontario, Canada
Summary:
Started out as one bright light, separated into 3 more and changed colors
Date Reported:
3/19/2004 5:42:30 AM
Day/Night:
Nighttime
No. of Witnesses:
7
Duration:
15-20 minutes
No. of Object(s):
Multiple
Full Description & Details
In 1964 my brother, father, sister-in-law, nephew and 2 next door neighbours were outside watching this bright white light in the Norhtern sky. It sat there then changed colours when 3 other white lights flew out of it, each flying off in different directions. It started moving towards us. It was a very starry night sky and as this "machine" went overhead it made a sound I can repete to this day (like a low vibrating electric motor). It was huge, massive at least 5 football fields long and wide. It looked to by cylindrycal. It blanked out all the stars-- just one solid black mass. As the end of it reached our yard, whoosh (and I mean whoosh) it was gone.

I cried for days for it to come back because I felt abandoned. It was almost like I knew who "they" were or "what they" were. I was 12 years old. That was over 40 yars ago and I can tell you it's been an interesting 40 years.


Other Comments
My son had an interesting experience when he was 18. A dream he calls it, but everything points to an abduction. My daughter too -- she came to me one day with a drawing of a stick-man. This stick-man had big eyes, pointed chind and she made his body like a rectangle but with long skinny arms and legs. She said its name was Victory. Seems my family are experiencers, especially myself and my son. My son told his story to Whitley Streiber but didn't really get much of a feedback. I know there were moments throughout his life when he has been very frightened. He is now 33 years old - my daughter is 24
Reported Sighting?
No
Your Location:
Sarnia, Ontario, Canada
Age:
52
login
F
Date:
may or june 1987
Location:
Monaca, Pennsylvania, USA
Summary:
3 lights at the vertices of a triangle, only the lights were visible
Date Reported:
3/18/2004 11:39:29 PM
Day/Night:
Nighttime
No. of Witnesses:
0
Duration:
1 minute
No. of Object(s):
Single
Full Description & Details
i was in my car, with the roof off. I glanced up at the stars, after seeing 3 lights in the shape of a triangle, i didn't think anything of them and continued to concentrate on the road. After 20 seconds I glanced up again, and saw the three lights. Initially I thought they were street lights, but during the second glance I noticed that the lights weren't passing me like street lights. I then noticed that the lights were constantly in view. Either they were hovering or high enough to look like it was hovering. Since I was driving, i had to keep looking down at the road. On the 4th or 5th glance up, the lights were gone.
Witness Background
Civil Engineer BSCE
Other Comments
Over the years, I have followed UFO theories and articles. It has sort of become a hobby for me. I have noticed that as the years pass, more and more theories are presented. Some of these theories seem far fetched, while others seem very pausible. I am predicting over the next 50 years, the spectrum of explanations will become larger, making it more and more difficult for people to beleive in the possibility of UFO's. Someone needs to change the image of this subject, and make it a real science, before this whole thing becomes a fable like old stories of gods and goddesses.
Reported Sighting?
No
Name:
Johnny Alam
Your Location:
Pittsburgh Pa
Age:
34
login
Date:
6-16-2000
Location:
salem,oregon,U.S.A.
Summary:
3 extraordinary close ufo Encounter!!!
Date Reported:
3/18/2004 9:13:17 PM
Day/Night:
Nighttime
No. of Witnesses:
3
Duration:
25 mins
No. of Object(s):
Multiple
Full Description & Details
2 Friends and i were driving home from a 7 day stay at a resort in oregon. We were driving north bound on the highway. Heading towards Washington State. When The driver and i noticed 2 Extremly bright lights from a distance. I pointed it out to my friend in the back seat. We started to discuss what it could be. The driver suggested 2 cruise missles of some sort. The lights appeared to be hovering up and down and a steady rate going the opposite way down on the north bound highway. Almost as if observing us in vehicles, poosible taking scans of some sort. As we got closer we noticed the lights were comeing from 2 ufo's going south in the north bound lane. There was other traffic on the highway at the time, so im sure there were other witnesses other then ourselves. Even the car infront of us stop abruplty. I also noticed a semi truck pulled over to the left side of the highway going northbound. The driver of our vehicle slowed down alot so i stuck my head out the window while the car was in motion so i got a good look at the crafts. The vessicles were about 20 feet from the concrete of the highway. There was an extremly bright light in the front of the vessicle, then what appeared to be contrete with 3 columns of hieroglyphical writing. With another brighlight at the end of the vessicle. We got off the highway about 2 exits up and went into a church parking lot that was write off the freeway to smoke a ciggerate and talk about what we seen before we left the area. When we noticed a 3rd craft going east passing over the highway. This vessicle was triangle shaped, dark green with red and yellow tubing that was intergrated into the bottom of the vesslicle. Possibly some type of piping with fuel being fed to the engines. This triangle shaped ship was moving a bit faster and was noiser then the other 2 seen previously. After the triangle shaped vessicle passed over us and was no longer in sight we got back in the car about 5 mintues later and left. As we approached the onrap to continue driving home to washington we noticed a army truck with 2 soldiers standing on the side of the onrap looking up at the sky ignoring any other distractions. Diddnt even look at us as we drove by. We were gonna stop and ask what they were looking at but then we changed our minds and got on the highway and went home. Were these 3 vessicles some type of new secret military aircrafts or did the army respond to ufo's intrusion into our airspace. We might never know. But i enjoyed the once in a life time experince if they were extraterrestrials from a advanced race outside of our solar system.
Witness Background
High school graduate, attending univeristy at this time.
Other Comments
I will be making a 3d replica of these ships as well. When im complete if yud like ill mail it to u. Unless u feel that u could get the matierials to make a better 3d replica?
Reported Sighting?
Yes
Reported To:
www.nidsci.org
Name:
Andrew
Your Location:
Buckley,Wa,U.S.A.
Age:
20
login
D F
Date:
March 18 2004
Location:
Altoona Iowa USA
Summary:
I saw six UFOS in the sky
Date Reported:
3/18/2004 7:55:08 PM
Day/Night:
Nighttime
No. of Witnesses:
just me
Duration:
a while
No. of Object(s):
Multiple
Full Description & Details
I saw a bunch of UFOs I think Altoona Iowa is becoming a UFO hot spot because for the last three nights I've seen multiple numbers of UFOs/ tonight I saw two flickering bizarre lights they were traveling right next to one another and the lights were flickering in a weird pattern the color of their lights were red and white I also saw a white light that had a little bit of red mixed with it and then I saw a yellow looking disk when I was walking my dog this is when I saw all these UFOs the yellow disk wasn't going very fast matter of fact it was going pretty slow I watched it for about four minutes and then it was gone I also saw another UFO tonight that I;ve seen before and have reported it to iwasabudcted.com well I saw the same UFO tonight its a weird looking disk that has red blue and white pulsing lights its the second night I've seen this UFO now about the two flickering disks they were traveling side by side I watched them for about five minutes and then they disappeared into the clouds I also saw one over prairie meadows it's a casino in our town I couldn't tell its shape but it had a weird red pulsing lights it was moving pretty slow it came from the north and departed south I never seen so many unexplained lights this is the most I've seen I hunt UFOs I see some pretty weird phenomenon in the skies of Iowa
Other Comments
I believe in UFOs because I see them almost every night i see about at least four a night but tonight I saw a lot more and know I did not make any of this up it's all real i swear
Reported Sighting?
No
Name:
Weston
Your Location:
Altoona Iowa USA
login
Date:
may 19, 1966
Location:
lexington,kentucky USA
Summary:
large luminous pale green tiered-shape ship hovering silently
Date Reported:
3/18/2004 5:21:31 PM
Day/Night:
Nighttime
No. of Witnesses:
5
Duration:
1 hour
No. of Object(s):
Single
Full Description & Details
we saw a green streak flash across the sky at an impossible speed, grow larger, and then come to a stop; it was a large tier shaped vehicle, glowing a luminous pale green. We thought we had watched it for ten minutes, but when we returned home we discovered an hour had elapsed. I called the local newspaper, and the exasperated operator who answered said she had received over 100 calls about the sighting; there was NOTHING about it in the newspaper the next day! the intersting thing is that I believe I called it down telepathically; a minute before the sighting I had leaned out the car window, looked up at the sky and said "I know you're up there."
Witness Background
I am a college educated, stable, responsible person who works as a professional musician.
Other Comments
I believe there is overwhelming evidence to support the fact that we are not alone in the universe, and that we are visited regularly by other life forms in flying machines; I have many responsible friends who have had sightings as well, and I personally know three people (one a well-known author) who have been abducted by extra-terrestrials.
Reported Sighting?
Yes
Reported To:
lexington leader newspaper
Name:
William
Your Location:
New York, NY USA
login
Date:
17/03/2003
Location:
KUALA LUMPUR
Summary:
3 ORANGE COLORED OBJECTS EVENLY SPACED OUT FLYING VERY SLOWLY SKYWARDS
Date Reported:
3/17/2004 11:35:00 PM
Day/Night:
Nighttime
No. of Witnesses:
2
Duration:
15MINS
No. of Object(s):
Multiple
Full Description & Details
AT ABOUT 9.20PM SAW 3 ORANGE COLORED LIGHT, LIKE THE COLOR OF BURNING FLAME, EVENLY SPACED OUT AND FLYING UPWARDS BUT ACROSS THE SKY OVER CHERAS, KUALA LUMPUR.

WHEN WE SAW THEM, THEY WERE ALMOST DIRECTLY ABOVE US AND I ESTIMATED THAT THEY WERE ONLY ABOUT 3000FT UP AND ABOUT 400F-500FT APART. THE REASON I LIKENED THEM TO A BURNING FLAME WAS THAT THE OBJECTS FLICKERS.

THEY COULDN'T BE AEROPLANES AS THEY FLYING TOO SLOWLY, ALMOST HOVERING, ONLY HELICOPTERS COULD FLY LIKE THAT. i DON'T THINK THEY WERE HELIS EITHER AS AT THAT HEIGHT, THE SOUND OF 3 CHOPPERS SHOULD BE QUITE LOUD AND FURTHERMORE, THE LAST I SAW THEM WERE WAY UP INTO THE OVERHANGING CLOUDS AND DISAPPEARED SOON AFTER. DON'T HELICOPTERS OVERHERE DO THAT. THE LIGHTS I SAW WASN'T A PROJECTED BEAM LIKE HEADLAMPS BUT THAT THE FLYING OBJECTS WERE ACTUALY A GLOBE OF LIGHT.
Witness Background
SENIOR STORE MANAGER OF A HYPERMARKET
Other Comments
HAVE NEVER REALLY PUT MUCH THOUGHT ON IT
Reported Sighting?
No
Name:
MR.F.S.LEE
Your Location:
KUALA LUMPUR, MALAYSIA
Age:
43
login
Date:
1995
Location:
greensburg,pa u.s.a
Summary:
a number of lights in a pattern flew from one end of sky to other in 8 to 10 seconds
Date Reported:
3/17/2004 8:26:21 PM
Day/Night:
Nighttime
No. of Witnesses:
2
Duration:
8 to 10 seconds
No. of Object(s):
Single
Full Description & Details
me and friend sitting on front porch. looked up at sky and to my right saw a dim pattern of dim amber lights, between12 and 16 lights i think,lights kind of in semicircle formation but thelights in the middle where dipped inalittle so the shape was kind of like a round letter M shape.I pointed it out to my friend quickly and we watched it fade out of view to the left.it was pretty big

a couple inches in the sky guess thats big

no sound

thought enough of it to call state police about a ufo


Reported Sighting?
Yes
Reported To:
pa state police
Your Location:
pensylvania
Age:
33
login