Cases 17 - 24 out of 35 in this section
|< First
<< Previous
Next Page >>
Last >|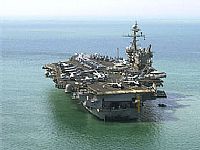 US aircraft carrier 'stopped' by large, glowing UFO; electromagnetic effects
1971 - Caribbean / Bermuda Triangle,
From the witness: "We heard someone yelling 'There is something hovering over the ship!'... As we looked up, we saw a large, glowing sphere.... It made no sound that I could hear. The light coming from it wasn't too bright, about half of what the sun would be. It sort of pulsated a little and was yellow to orange... Virtually all electronic components stopped functioning during the 20 minutes or so that [the UFO] hovered over the ship. " View full report
Source: Jim Kopf (credit: Rense.com) ID: 1075
Case Type: RawReport Features: E-M Effects, Silent, Military, Group Sighting, Water-Related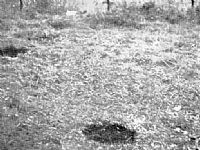 Landing marks near Lake Anten, Sweden; UFO seen in area
August, 30, 1970 - Lake Anten, Sweden
Three round landing marks in a triangular formation were found in the garden of Richard Johansson's small farm near Lake Anten, Sweden. Several witnesses in the area had seen a strange red light, almost the size of the moon, that same night. Soil samples were taken and analyzed, with the results showing an increased level of gamma activity (radiation) in the test samples from one of the landing marks. View full report
Source: Sven-Olof Fredrickson, FSR Vol. 17 No. 1 ID: 604
Case Type: StandardCase Features: Physical Trace, Landing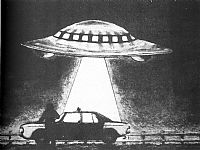 Danish police officer has two close encounters (the Maarup sightings)
August, 13, 1970 - Hadersley, Denmark
Danish police officer Evald Maarup was driving through the countryside near Hadersley, when he encountered a brilliantly lit UFO. Suddenly there was a fierce light beaming down on him, his car engine cut out, and the car lights and his radio stopped working. Above him, Maarup could make out a large circular object which he watched for about five minutes, before it moved away rapidly. Three years later, Maarup had another encounter with the same or a similar object at exactly the same place. View full report
Source: UFOs at Close Sight - Ufologie.net ID: 734
Case Type: StandardCase Features: Vehicle Encounter, Vehicle Interference, E-M Effects, Police, Light Beam, Witness Sketch, Witness Photo
Navy ship HMAS Hobart hit during Vietnam UFO encounter?
June, 15, 1968 - DMZ, Viet Nam
On Friday, 15 June 1968, Allied forward spotters along the eastern part of the Demilitarised Zone, a 9.6km wide strip separating North and South Vietnam, reported seeing about 30 strange slow-moving 'lights' in the night sky. View full report
Source: AUFORN Special Report, Issue 34, April 2003 ID: 60
Case Type: StandardCase Features: Military, Physical Trace
UFO Visits Ontario Lake
June, 18, 1967 - Northern Ontario lake, Ontario, Canada
Two boaters witnessed a brilliant object simply hovering about 50 feet above tree level. As they sit in wonder, suddenly the object begins to pick up speed, racing straight toward them. View full report
Source: UFO Casebook ID: 28
Case Type: StandardCase Features: Physical Trace, E-M Effects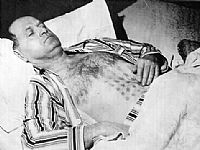 The Stephen Michalak Encounter at Falcon Lake
May, 20, 1967 - Falcon Lake, Manitoba, Canada
Stephen Michalak of Winnipeg, was prospecting near Falcon Lake, Manitoba, when he encountered two UFOs, one of which landed on a large, flat rock about 160 feet away from him. After having approached the object and looked inside, the object moved, and something like an exhaust vent was now in front of him. A blast of hot gas shot from these holes onto his chest, setting his shirt and undershirt on fire and causing him severe pain, and leaving burn marks in the shape of a grid. View full report
Source: Loy Lawhon, About.com ID: 376
Case Type: MajorCase Features: Physiological Effects, Landing, Injury, Witness Photo, Witness Sketch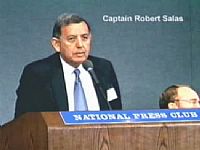 The Malmstrom Air Force Base UFO/Missile Incident (Nuclear missiles shutdown during UFO encounter)
March, 16, 1967 - Malmstrom Air Force Base, Montana, United States
From the witness Robert Salas: "I received a call from my security guard who was quite frightened as he reported that an unidentifiable flying object was hovering immediately above the front gate. The object was illuminated by a red glow.... many of our missiles became disabled... a similar incident had occurred at another site and they had all of their missiles disabled while UFOs were observed directly over the launch sites." View full report
Source: Robert Salas, (MUFON) ID: 1017
Case Type: StandardCase Features: Military, Silent, Nuclear Facility, Witness Photo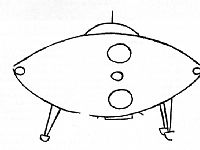 Burn marks and holes found after UFO seen close to ground
September, 13, 1966 - Gwinner, North Dakota, United States
Young Randy E. Rotenberger was waiting for the school bus outside his home when he saw "some flashing lights," then an object. "It looked like two bowls put together," the witness told an AP reporter. He saw three "pegs" on the bottom and antennae projecting from the top. Later, "some burnt marks" and tapered holes were found at the scene, each about a foot in diameter and five inches deep. View full report
Source: NICAP (National Investigations Committee on Aerial Phenomenon), 'Strange Effects from UFOs', by Donald Keyhoe and Gordon Lore ID: 578
Case Type: StandardCase Features: Physical Trace, Witness Sketch, Landing, Children
Cases 17 - 24 out of 35 in this section
|< First
<< Previous
Next Page >>
Last >|
Cases per page:
8
16
24