March 12, 1967 - Las Cruces, New Mexico, USA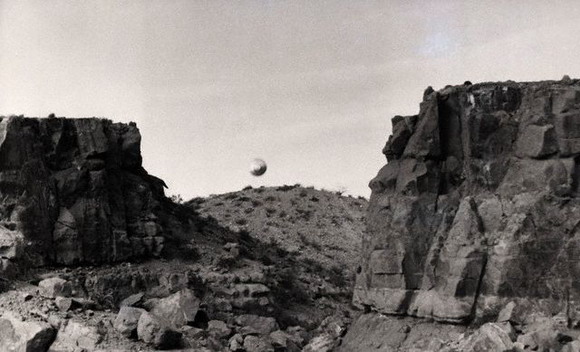 Background Information / Description:
(Picaco Park) Las Cruces, New Mexico- A New Mexico State University student took this photo of what he says is a UFO, while photographing land formations for a geology class. The picture was taken with a 4x5 press camera at F8 at 1/100/second. He said the object made no noise and disappeared as he looked down to change plates in the camera.

Another description from "Xenophilia.com" website:

About 2:00pm on March 12th, 1967, A New Mexico State University student was hiking in a desert area near Picacho Peak, New Mexico, when he spotted a big round silvery object hovering in the air just above a rocky hill about 500 yards away. He prepared his 4" X 5" Press Camera, set it at F8 and 1/100 shutter speed, and snapped one good black and white picture of the object. It appeared stationary or was moving very little at the time of the photograph. He looked down to change the plates of his camera, needing only 3 seconds, but when he looked back to take another shot, the object was gone. He recalled smelling an electrical odor in the air too!
Source / Credit: Bettmann
Photograph ID: 209
ID: 209
FAIR USE NOTICE: This page may contain copyrighted material the use of which has not been specifically authorized by the copyright owner. This website distributes this material without profit to those who have expressed a prior interest in receiving the included information for research and educational purposes. We believe this constitutes a fair use of any such copyrighted material as provided for in 17 U.S.C § 107.