March 31, 2007 - Redondo Beach, California, USA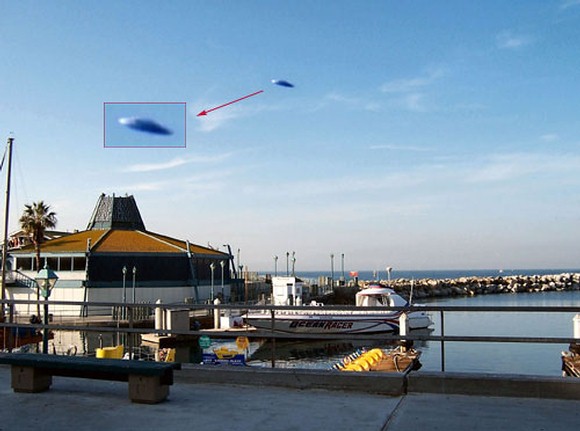 Background Information / Description:
Date of Sighting: March 31, 2007
Time of Sighting: 8:30 to 9:00 AM AM PDT
Duration of Sighting: 15 Seconds
Date Sighting Reported: April 6, 2007
Location of Sighting: Redondo Beach, California (See Map)
Latitude: 33.83 Degrees North
Longitude: 118.4 Degrees West
Number of Witnesses: One
Weather: Few High Clouds. (Per Observation on Photo and Official Weather Observation.) Visibility 9 Miles.

Description: The witness first sent the photo and provided the following one liner regarding the photo: Saw silver object hovering over pier.The witness later provided information about the photo in response to my questions. The photo was taken on the dock beside the Redondo Beach Pier at 150 W. Torrance Bldvd. The witness stated that the object was moving north to south at a high rate of speed (similar to jet speed). The object then stopped and hovered for approximately 5 seconds. It was during this time that the witness took the photo. About 2 seconds later the object sped to the south and the witness lost sight of it behind the pier. The camera used was a Kodak Easyshare DX7440 4 megapixel model.

Investigator's Notes: This photo is one of the best photos that I have seen of a classic silver flying disk. Not only does the photo show a flying saucer, but the flight characteristics described by the witness defy conventional aerial motion because the object was moving rapidly, stopped, hovered, and then sped off. I do not think that the photo is a hoax because the sun position on the disk is on the same side as other objects in the photo. The brightness on the object is consistent with the direction and the time that the photo was taken. Also the camera model, date, and other information was associated with the file sent by the witness. Generally any software editing will remove these attributes which suggests that the photo was sent as output from the camera. (Of course someone could have thrown something in the air and taken a photo of it, but I don't think that this is the case because the disk is in focus and was likely not moving when the photo was taken.) Photo analysis does not indicate that the object was suspended by any string or other means.

Copyright UFOs Northwest
Photograph ID: 426
ID: 426
FAIR USE NOTICE: This page may contain copyrighted material the use of which has not been specifically authorized by the copyright owner. This website distributes this material without profit to those who have expressed a prior interest in receiving the included information for research and educational purposes. We believe this constitutes a fair use of any such copyrighted material as provided for in 17 U.S.C § 107.