April 14, 1998 - Monterrey, Mexico
Photograph of the tube-shaped object, above a large fire on the Sierra Madre Oriental mountains.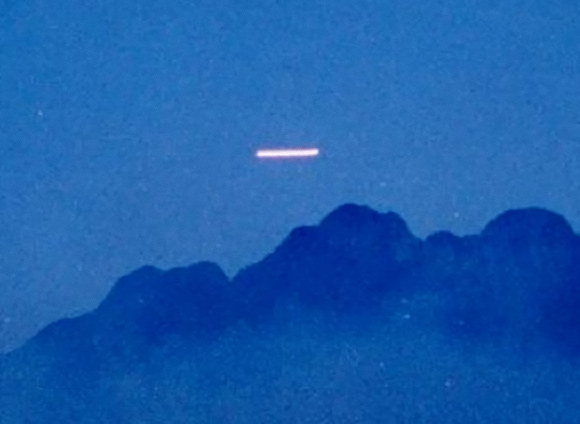 Enlargement of the object.
Background Information / Description:
April 14, 1998

Mr. Yturria Garza has given SKYSCAN permission to use these pictures which were taken by Raul Garza who was taking pictures of the colossal fire on the Sierra Madre Oriental. "Suddenly an unexpected visitor appeared into the scenario. It was like an enormous neon tube illuminated with an intense white light" --says Raul.

According to Mr. Garza, "During the computer analysis of the original negatives, I and my research team didn't find anything that could suggest that the pictures could be the product of an elaborated hoax and I can assure that Raul Garza is a respected and well-known person in this city, not interested in economical profits and popularity needs. "

Raul was using a tripod and the camera was in "program" mode. The telephoto lens has a range of 25/70 mm and was set to 70 mm.

To quote Mr. Garza: "Maybe you in the States don't receive much graphic information about all what's happening here but I can assure you that the activity seems to be getting stronger specially due to the fact that the main volcanos from Mexico City are very close to erupting."
Source / Credit: Raul Garza / SKYSCAN
Photograph ID: 408
ID: 408
FAIR USE NOTICE: This page may contain copyrighted material the use of which has not been specifically authorized by the copyright owner. This website distributes this material without profit to those who have expressed a prior interest in receiving the included information for research and educational purposes. We believe this constitutes a fair use of any such copyrighted material as provided for in 17 U.S.C § 107.