December 24, 2002 - Dégelis, Quebec, Canada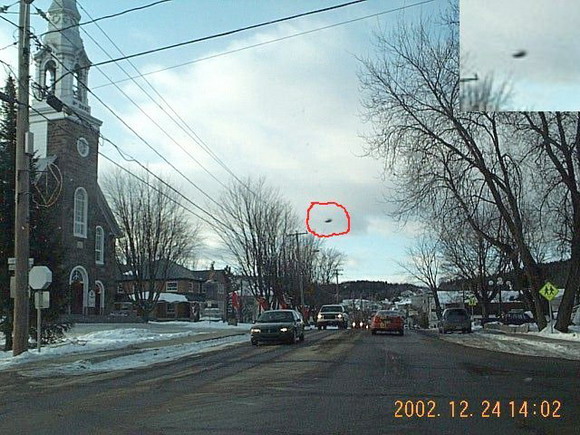 Background Information / Description:
The following report was submitted by the witness:

LOCATION & DATE: Dégelis, Province du Quebec, Canada - December, 24, 2002

Sighting Time: 14:02
Day/Night: Daytime
Duration: unknown
No. of Witnesses: 1
Urban or Rural: Rural
No. of Object(s): Single
Size of Object(s): unknown
Distance to Object(s): unknown
Shape of Object(s): Ovoid
Color of Object(s): silver

FULL DESCRIPTION & DETAILS: I was riding with a friend during a vacation away from the stress of the city. I was in the beautiful courntryside of the Témiscouata region of Québec (Near Rivière du Loup. I took a few pictures as I was going through picturesque villages of the region. When I came back to Montréal, I downloaded my pictures and noticed an ovoid object that I do not remember seeing at the time I took the picture. It seems to be metallic.

Personal Background: I work as a computer technician in a university.

Reported Sighting? Yes
Reported To: UFO CASEBOOK FORUMS
Name: Georges Huard
Location: Montreal
Age: 45

Photograph ID: 238
ID: 238
FAIR USE NOTICE: This page may contain copyrighted material the use of which has not been specifically authorized by the copyright owner. This website distributes this material without profit to those who have expressed a prior interest in receiving the included information for research and educational purposes. We believe this constitutes a fair use of any such copyrighted material as provided for in 17 U.S.C § 107.