October 15, 1974 - Surrey, B.C., Canada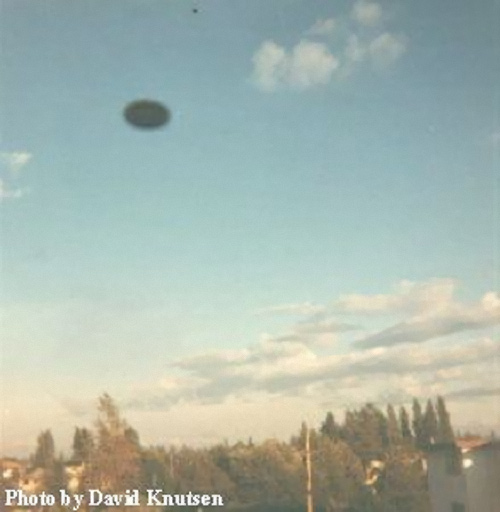 Background Information / Description:
Article from Vancouver Sun (Vancouver, Canada), October 26, 1974:

For the past 10 days, 11-year-old David Knutsen of Surrey has kept the biggest secret of his life locked inside his Kodak Instamatic camera.

On October 15, the freckle-faced Grade 6 student snapped a picture of what he is convinced was an Unidentified Flying Object, a round silver coloured craft that made a soft buzzing sound outside his apartment.

David was talking to a friend in an apartment complex when he said he noticed two RCMP officers standing in the building's parking lot, pointing in the sky towards the east.

'It just went round and round in a circle, up and down, and then took off super fast in the sky,' David said in an interview today.

The UFO shot he took was the first picture on a 20-picture roll and David's father, a construction worker, wouldn't let him develop it until the other 19 pictures were taken.

David finished the roll last weekend and received his negatives Friday.

'I wasn't that excited honestly,' said his father. 'You know how kids are. I really didn't believe it, but then I saw the picture and it was so good.'

The colour snapshot, taken at 4:00 PM after David returned home from Old Yale Rd. elementary school, depicts a circular, almost-black object with a sharp but narrow blue glow around its exterior. There were no other distinguishable markings on the craft which he estimated was about 400 feet away at its closest point.

The whole episode lasted only three seconds, according to David. RCMP Sgt. Arnold McPherson said today he didn't know the names of the officers David claimed to have seen watching the object.

'No UFO reports were filed by anyone in the police station and no one had made any mention of sightings', he said.

An air traffic control spokesman at Vancouver airport said his log book showed no unaccounted-for objects on ATC radar screens on October 15.

The Rescue Co-ordination Centre in Victoria also said it had no reports of unidentified flying objects that day.

Knutsen described his son as a boy with 'an interest in UFOs.'

David said he had been reading library material on the mysterious craft but swears the October 15 sighting from his kitchen window was authentic.

'It wasn't no round airplane, I know that,' he said.

A blazing white unidentified Flying Object which was described as roaring like a jet aircraft was reported by an RCMP officer in Turner Valley, Alta., two days before David claims his UFO appeared in Surrey . . .

David was unclear about the UFO's size. He said it was roughly 50 feet in diameter but that its 'super speed' prevented him from being sure. The only light he saw was the sun gleaming off the craft, he said.

-----------------

"The Surrey Corridor"
by Graham Conway (UFO*BC)

At 4:00 PM on the 15th of October 1974, a young man called David Knutsen noticed from his apartment window in Whalley, two RCMP officers. These men were in the parking lot watching the sky. Looking in the same direction David saw a disc shaped object. Having recently received a camera for this birthday he used it to take a rather impressive picture that a short time later was displayed on the front page of the Vancouver Sun. However, on further inquiry it was declared that no police officer had viewed this craft. Not believing this statement I placed an advertisement in a local Surrey newspaper seeking further additional witnesses. In four days I had sixteen phone calls. No one wanted to talk for five minutes, they all wanted to talk for hours, principally about their own sightings or experiences. Not one of them was able to confirm what David had seen and photographed (apart of course, from the "non-existent" police officers). After the fifth phone call I realized that most of these calls were coming from an area between Scott Road, (120th Street) and King George Highway, (134th Street). Both of these roads are principal thoroughfares running north to south and are parallel. The distance separating them is approximately two miles. More significant is the fact that right down the center of this area are Hydro transmission lines and sub stations. Although these are purely arbitrary boundaries the fact remains that from then on we researchers became acutely aware of the existence of the "Surrey Corridor", as it later became known.

Scott Road is the North Delta, Surrey boundary. Remarkably, the majority of our local reports over the past twenty years have been reported from the east side of 120th Street. Astonishingly, almost no reports come in from South Delta, (i.e., Ladner, Tsawwassen) which, strangely enough, have their own noticeably outstanding set of Hydro transmission lines.

Not only are the reports we receive constant in number, but quite varied in content. Daylight sightings are frequent, I myself witnessed a white disc in the sky one Sunday morning, whilst I and my wife visited an ailing friend. This was from close to Bear Creek Park where many reports seem to emanate.

The night the Persian Gulf War officially ceased we had a report of two triangular shaped objects cross King George Highway at the ninth floor level of a thirteen story apartment building! Another remarkable feature of this area is the large number of visitation/abduction stories that have emerged from around the Bear Creek Park and Newton area. Predictably, we find that many of the unfortunate "experiencers" live close to or alongside either transmission towers or electrical substations.

It is also a noticeable fact that numerous reports emerge from the Guildford area which is probably around two miles east of the imaginary boundary line of King George Highway, as the UFO flies. In the past twenty two years I have met and heard from a great many people, young and old, who recount sightings of their own that have taken place within the described corridor, certainly over a hundred.

All this came about because of an alert young man and his birthday gift. Incidentally, a closer examination of David's photograph appears to show a SECOND object located higher in the sky. Thinking back on this chain of circumstances, I can't help but speculate as to whether that was the very first? and very last? sighting that David had. Fifty years of research has taught me that few witnesses have only one such event in their lives. Should you happen to read this David, please give me a call and bring me up to date.


Photograph ID: 407
ID: 407
FAIR USE NOTICE: This page may contain copyrighted material the use of which has not been specifically authorized by the copyright owner. This website distributes this material without profit to those who have expressed a prior interest in receiving the included information for research and educational purposes. We believe this constitutes a fair use of any such copyrighted material as provided for in 17 U.S.C § 107.