April 8, 2004 - 20 miles south of Roanoke, Virginia, USA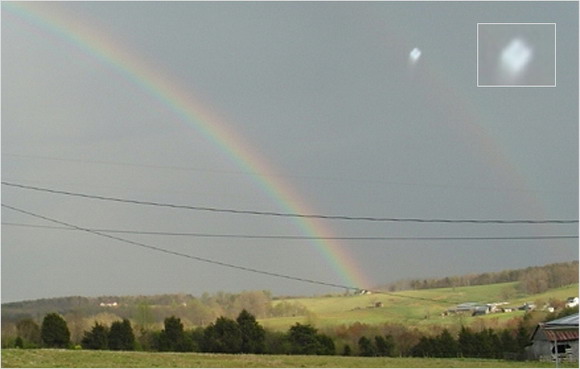 Background Information / Description:
Diamond UFO Filmed in Virginia

FRANKLIN COUNTY -- Don sent me an image of a diamond shaped UFO over the countryside taken towards the Appalachian Mountains on April 8, 2004. In late afternoon, about 5:45 PM, there was a gorgeous double rainbow after a rainstorm near the Blue Ridge Parkway twenty miles south of Roanoke.

Don took five images of the rainbow in several minutes and this one contained the UFO. Neither he nor his friend saw the UFO as the pictures were made. Thanks to Don.

Source / Credit: Filer's Files
Photograph ID: 182
ID: 182
FAIR USE NOTICE: This page may contain copyrighted material the use of which has not been specifically authorized by the copyright owner. This website distributes this material without profit to those who have expressed a prior interest in receiving the included information for research and educational purposes. We believe this constitutes a fair use of any such copyrighted material as provided for in 17 U.S.C § 107.