Summer, 1932 - St. Paris, Ohio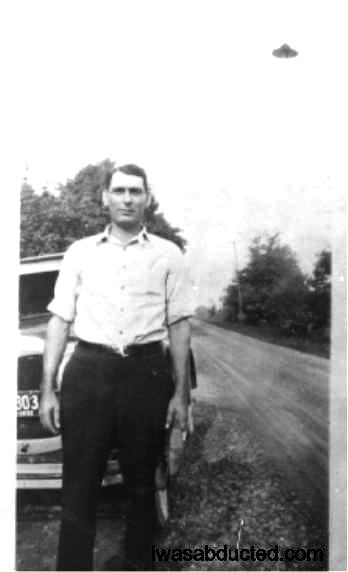 Background Information / Description:
The unidentified flying object in the picture could not have been a street lamp, simply because there were no street lamps there at the time. There are no power poles or power lines visible anywhere in this picture. Summer 1932, Mid-day, St. Paris, Ohio. This picture of George Sutton of St. Paris, Ohio, taken near mid-day (as may be seen from the shadows on the ground) shows a vintage automobile with a 1932 license plate on the front bumper. The owner of the photo album says there were no electric street lights along this road in those days. Nobody has been able to account for the dark object seen over Sutton's left shoulder in this photograph.
Photograph ID: 135
ID: 135
FAIR USE NOTICE: This page may contain copyrighted material the use of which has not been specifically authorized by the copyright owner. This website distributes this material without profit to those who have expressed a prior interest in receiving the included information for research and educational purposes. We believe this constitutes a fair use of any such copyrighted material as provided for in 17 U.S.C § 107.