February 26, 2005 - Mesa, Arizona, USA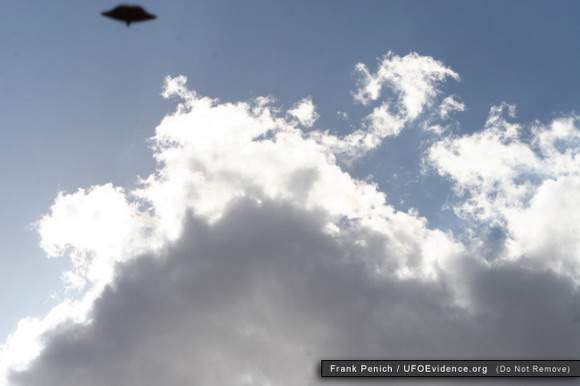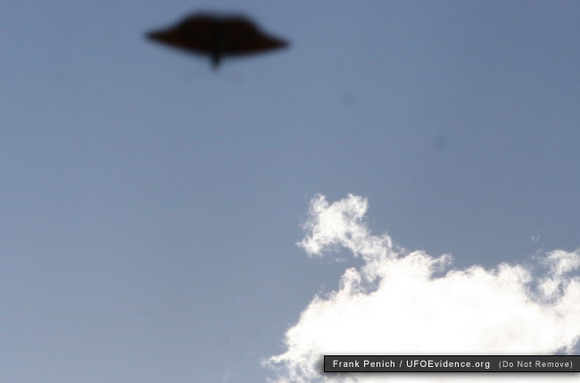 Background Information / Description:
Summary:
I was taking cloud pictures with my new Canon Digital camera and discovered the object in a shot after uploading pictures to my computer!

Sighting Time: 2:46 PM
Date Posted: 3/2/2005 10:07:10 PM
Shape of Object(s): upside down saucer w/ protrusion
Color of Object(s): black

Full Description & Details:
I was spending a few minutes in my backyard taking pictures of random cloud formations with my new Canon20D digital SLR. I took approx. 40 shots in about 20 minutes and thought nothing of it until later when I was uploading the pictures off my memory card to my computer. I was scanning the shots and this black object appearred in just one shot! I did not recall seeing anything of the sort when I was taking the pictures. My camera was at full resolution but even with a lot of magnification the object is "fuzzy". It has a classic upside down saucer shape with a protrusion from the bottom and is perfectly symmetrical down the center axis. I have taken many pictures of birds and planes and this is neither! Any thoughts? Any other sigthings in Mesa (Phoenix) area around that time??

The pictures before and after this were clear so it was not a "object" on my lens! However, there is a few small insignificant blemishes that I did see on all my shots, dust on the lens.

Other Comments:
I do not wish to include contact beyond my email. Any thoughts or questions are welcome via email.

Reported Sighting? Yes
Reported To: family and friends
Name: Frank Penich
Location: Mesa, AZ USA
Age: 47
Photograph ID: 357
ID: 357
FAIR USE NOTICE: This page may contain copyrighted material the use of which has not been specifically authorized by the copyright owner. This website distributes this material without profit to those who have expressed a prior interest in receiving the included information for research and educational purposes. We believe this constitutes a fair use of any such copyrighted material as provided for in 17 U.S.C § 107.