March 31, 2006 - San Jose, Costa Rica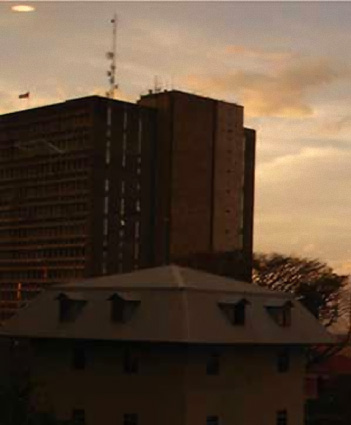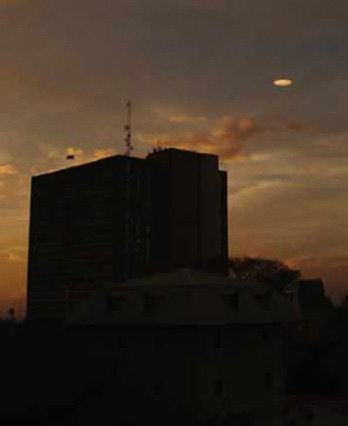 Background Information / Description:
Press article by A.M. Costa Rica (English-language Costa Rican news website):

"City witnessed a light show Friday afternoon"
By the A.M. Costa Rica staff

Associate Editor Saray Ramírez Vindas is as much an artist as photographer. She is ever on the lookout for a great shot.

So after she took a camera full of Óscar Arias Sánchez Friday afternoon at the Tribunal Supremo de Elecciones, she was attracted by the glorious sunset and the silhouette of the Instituto Nacional de Seguros.

Her philosophy on sunsets is to take multiple photos because the light is ever changing, she said.

Then it was time for the president-elect to talk with reporters. Ms. Ramírez took notes and photographed that and then returned to the Tribunal's Fourth Floor window for some final shots of the vanishing sunset.

Not until she returned to her office after 6 p.m. Friday did she find that she had photographed much more than a sunset. A handful of photos show one or more elliptical lights in the sky on what seems to be a westward course.

During her second round of photo taking, she captured what appear to be some kind of aircraft in much the same area as where the lights had been.

San José residents were excited several weeks ago when some weather balloons were seen in the sky. The images photographed Friday, however, are not of weather balloons. They probably are not lenticular clouds, either because they are so small in relation to the existing cloud cover. Lenticular clouds frequently are advanced as a possibility when such lights are seen.

Ms. Ramírez said that close study of her digital photographs show similar lights. But these are not obvious as are the ones in the photos because they are in the distance.

Workers at the Juan Santamaría control tower report that they frequently see unidentified objects on their radar screens. They jokingly call these objects "bacteria."

The camera records the first round of sunset photos made Friday at 5:52 p.m. The second series was made at 6:09 p.m.
Photograph ID: 409
ID: 409
FAIR USE NOTICE: This page may contain copyrighted material the use of which has not been specifically authorized by the copyright owner. This website distributes this material without profit to those who have expressed a prior interest in receiving the included information for research and educational purposes. We believe this constitutes a fair use of any such copyrighted material as provided for in 17 U.S.C § 107.