Winter, 1870 - Mount Washington, New Hampshire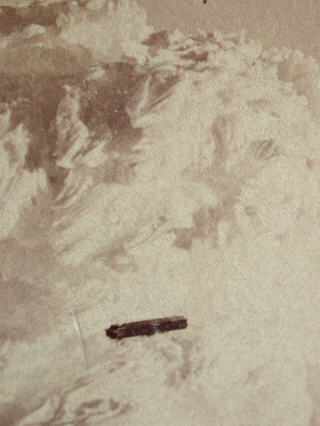 Background Information / Description:
This photograph depicts a cloud formation over the summit of Mt. Washington in the Winter of 1870 - 1871 - along with an added surprise! One can see a cigar shaped object. This could possibly be the earliest photograph of a UFO. The image is part of an antique stereoview. The description reads "SUMMIT Mt. Washington WINTER 1870-1871 Entered according to Act of Congress in the year 1871, by CLOGH & KIMBALL, in the Office of the Librarian of Congress, at Washington." (UFOArtwork.com)

More information about this photograph from "Filer's Files", #10-2002:

At the end of the E-bay online auction of March 4, 2002,
Independent-International Pictures Corp. president Samuel M.
Sherman announced that his company had won at auction the
oldest known UFO photograph. After several days of feverish
bidding, Sherman won the photo for his company in the last 50
seconds of the auction with a final high bid of $385. The
photograph is a winter 1870 stereo (3-D) view of clouds over
Mount Washington in New Hampshire. Plainly and sharply visible
in the photo is a long cigar-like object. Since this is before
known manned flight (with the exception of balloons - which
this is not) the object will have to be ruled as a solid
Unidentified Flying Object. Structure to this solid object is
clearly and sharply seen in some detail as is the reflection of
the sun off the object. The stereo view presents two images
(for right and left eye) which will be helpful in further
analysis of it. Sherman reported that due to the sharpness of
the image it will lend itself to further copying and
enlargement for study. Sherman also stated that this photograph
will not be locked up in some collection, but will be submitted
to scientists for detailed analysis and the results made
available to the public, which he says wants answers to the UFO
mystery.

Photograph ID: 134
ID: 134
FAIR USE NOTICE: This page may contain copyrighted material the use of which has not been specifically authorized by the copyright owner. This website distributes this material without profit to those who have expressed a prior interest in receiving the included information for research and educational purposes. We believe this constitutes a fair use of any such copyrighted material as provided for in 17 U.S.C § 107.