October 13, 2004 - Oceanside, Oregon, USA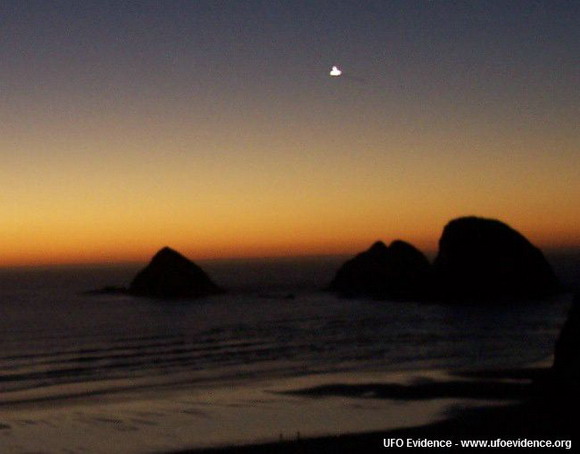 Background Information / Description:
REPORT SUBMITTED BY PHOTOGRAPHER:

Summary:
Was taking pictures of sun set.I got one picture of the object,one picture later showes only a faint spot that looks like a smole ring.

Sighting Time: 655pm
Day/Night: Dusk/Evening
Duration: picked up by camera
No. of Witnesses: 4
Urban or Rural: rural
No. of Object(s): Single
Size of Object(s): very large
Distance to Object(s): 8 to 15miles is a guess
Shape of Object(s): Disd with a dome on top
Color of Object(s): shine bright

Full Description & Details:
I was standing on the deck of a vacation cottage we had rented for a week taking pictures of the sun set. when I took this pictures i looked at it after i took it in the previewer saw this object showed it to the other people with me and took another picture that has the faint object in it that looks like a small smoke ring.The deck we were standing on is close to 80 feet above the ocean I would guess. That would put the skyline out about 10 miles. the sun was well below the horizen and I belive the obvect had to be far out there and very large.

Personal Background:
retired cabinet maker

Other Comments:
! willsend a picture attchment with verry little else in the E-mail

Reported Sighting? Yes
Reported To: u.f.o.com
Location: KIngston Wa. united states of america
Age: 67
Photograph ID: 329
ID: 329
FAIR USE NOTICE: This page may contain copyrighted material the use of which has not been specifically authorized by the copyright owner. This website distributes this material without profit to those who have expressed a prior interest in receiving the included information for research and educational purposes. We believe this constitutes a fair use of any such copyrighted material as provided for in 17 U.S.C § 107.