July 2, 2003 - Silver City, Michigan, USA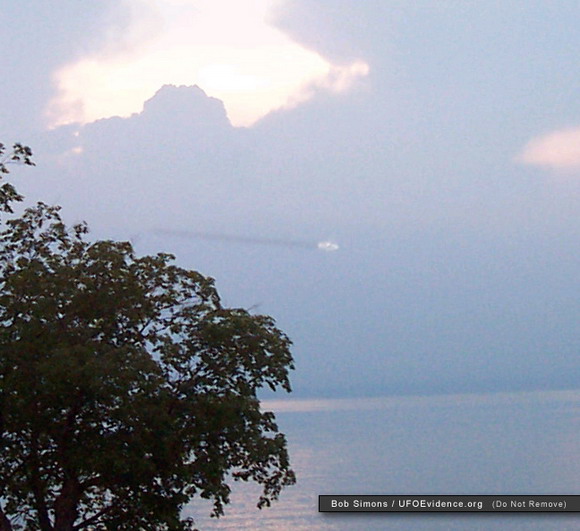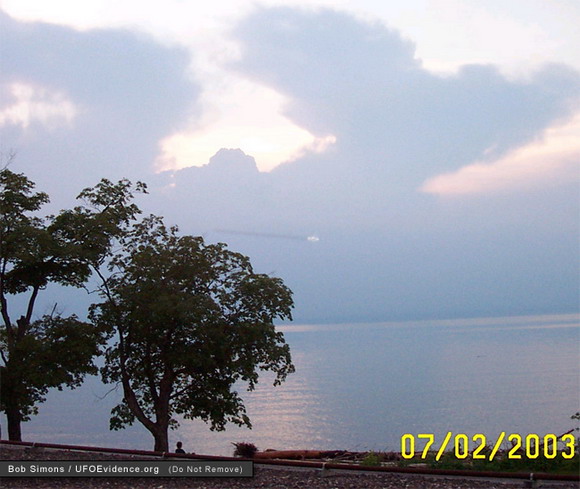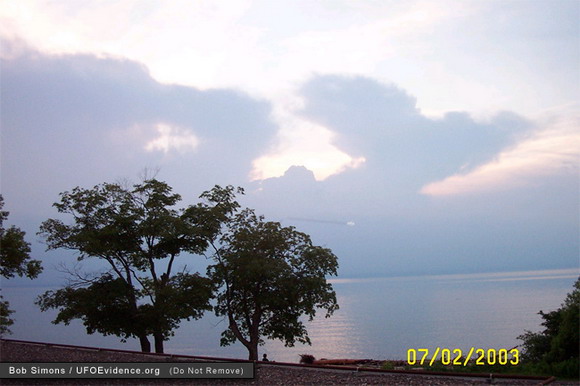 Background Information / Description:
[The above images are 3 different versions of the same photograph.]

SUMMARY:
I was taking digital pictures of the cloud formations over Lake Superior from a motel room in Silver City, Michigan on 7/02/2003 and noticed an object in the sky only after I downloaded it onto my computer.

Sighting Time: 8:00 PM
Day/Night: Dusk/Evening
Duration: Did not see it at the time picture was taken
No. of Witnesses: 1-3
Urban or Rural: Over Lake Superior
No. of Object(s): Single
Size of Object(s): approximately 30 feet in diameter
Distance to Object(s): 1 mile
Shape of Object(s): disk
Color of Object(s): silver

FULL DESCRIPTION & DETAILS:
On July 2, 2003, I was taking a few digital pictures of cloud formations over Lake Superior. When I got home to download the pictures, I noticed something else in the sky. I sent the picture to MUFON and they verified it as an anomaly. I did not 'touch up' the picture in any way...it is whatever it is....

Reported Sighting? Yes
Reported To: MUFON
Name: Bob Simons
Location: Saint Louis Park, Minnesota, USA
Age: 45

Date Posted: 2/17/2005 12:01:02 AM

Photograph ID: 356
ID: 356
FAIR USE NOTICE: This page may contain copyrighted material the use of which has not been specifically authorized by the copyright owner. This website distributes this material without profit to those who have expressed a prior interest in receiving the included information for research and educational purposes. We believe this constitutes a fair use of any such copyrighted material as provided for in 17 U.S.C § 107.