March 26, 2004 - San Francisco, California, USA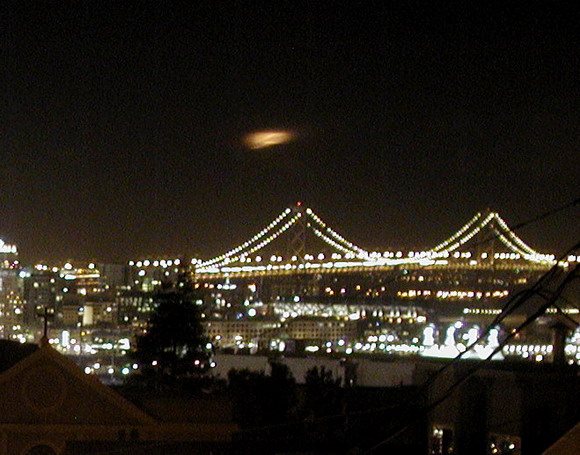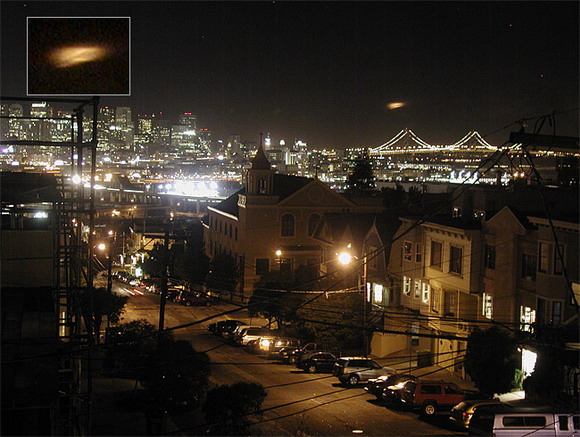 Background Information / Description:
This photograph is one in a series of 5 photographs of the UFO taken in San Francisco, California near the Bay Bridge.

FULL REPORT SUBMITTED BY WITNESS:

Summary:
Glowing Disc shape over Bay Bridge, San Francisco, Ca

Sighting Time: 12:30-1am
Day/Night: Nighttime
Duration: 20-30 secs
No. of Witnesses: 2
Urban or Rural: urban
No. of Object(s): Single
Size of Object(s): see pic?
Distance to Object(s): .5-1mile
Shape of Object(s): GLowing Disk
Color of Object(s): yelowwish gold

Full Description & Details:
I was visiting a friend in SF . when i entered his apartment i was taken back by the beautifull view of Downtown SF and The Bay Bridge. I went and grabbed my camera and took a series of pics of the view...since i travel with my lap top i was able to down load the pics of my camera right away to take a look at the pics...when they opened up we saw a glowing disc like shape in the first four photos and then gone in the fifhth...it seemed to be wobbling and then heads toward the bridge and dissapears..when i took the photos i saw nothing...My friend and i laughed thinking it was a reflection or something..we spent the next hour however trying to figure out what it was then..we even thought it might have been a reflection of my partners cigarette...I took another series of pics and tried to duplicate the phenomenon but was unable to. WE giggled about it for sometime thinking wow..what if it is somekind of UFO...i still have no idea, even blowing it up gives no clues of what it is..i took some other photos of inner light reflections from the room, but when you blow them up you can see the lamp or the cigarette. ITs obvious.this just didnt seem to be that. it was absolutely outside...maybe someone else saw it out there...

Personal Background:
Musician/ Songwriter

Other Comments:
Other comments from the photographer:

"Those pics are diffinitely not the Moon.as some of your web viewers have stated....there was no moon that night in the sky that i could see from there....plus you know looking at the other shots..the moon doesnt move like that in the matter of 20-30 sec."

"you already have my photos..perhaps you should show them in progression so that people can see that its not the moon.as your web viewers seem to think."

Reported Sighting? Yes
Reported To: Coast to coast
Name: Arlan Feiles
Location: new Jersey
Age: 35


(Thanks to Arlan Feiles for submitting the photographs and report.)
Photograph ID: 205
ID: 205
FAIR USE NOTICE: This page may contain copyrighted material the use of which has not been specifically authorized by the copyright owner. This website distributes this material without profit to those who have expressed a prior interest in receiving the included information for research and educational purposes. We believe this constitutes a fair use of any such copyrighted material as provided for in 17 U.S.C § 107.